Meet the 2021 Pilots
Ken Leota
Howell, NJ
My name is Ken Leota and I have been involved in ballooning for 37 years, along with my wife Janet. Our kids, Adam and Katie, have been crewing with us since birth! As things have progressed, Adam's girlfriend Courtney and Katie's husband Brandon are now part of the Team. We have been Very Lucky to have had long time friends/crew members, Vince & Patty, John & Rosie, and their families (as well as many others). One of the many things I love about Ballooning is the friends and smiles we have made over the years… looking back I wouldn't have changed a thing – except maybe starting sooner! We are truly Blessed to be able to share this wonderful sport with everyone we have met over the years!
Rudi Sachenbacher
Lowell, MA
Interested in ballooning since the '70s' crewing for Tom Stodolski. Been a pilot since 1998. Countries flown in are France, Mexico, Canada. What I like most about ballooning is no time constraints, no schedules, no particular destination in mind, the whatever-whereever-whenever feeling that I get when I run away from home to go flying.
Bob Mueller
Pittstown, New Jersey
Have been able to use ballooning to foster my other luvs, traveling and meeting new people in new places. Thanks to friends and ballooning, I have been able to travel to and see other countries through the locals eyes, not just the back of a tour bus. Currently my other balloon is a RE/MAX and my place of choice is a room with a view of a runway.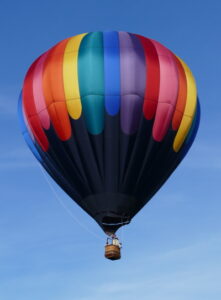 "Robin's Balloon"
Sponsored By:
Damon Flick
Williamsport, PA (currently live in Dansville, NY)
Got into this hobby after marrying into a ballooning family. After doing this for 17 years, the biggest thrill is seeing the reaction on new passengers faces. I'm also a long time member of the National Ski Patrol serving at Ski Denton and Swain. When not ballooning during the summer, you can find me riding my Sea-Doo either in the Finger Lakes or 1000 Island regions of New York.
Mark Stodolski
Sterling, MA
After crewing and piloting other balloons for thirty years, a common question always asked by new crew or passengers, "Where do you land?" Therefore, when I purchased my balloon 8 years ago, I chose the name, "Destination Unknown"
Been a pilot for 35 years, 17 years (Private & Commercial Pilot), 18 years student. Ballooning for 44 years (June 1976) – First time seeing a balloon and tether ride in the rain at my sister's high school graduation party in my parent's yard. My Uncle Tom was a student pilot and Charlie Manning and Sue Hall brought their balloon to the party. Owned balloons for 12 years.
My crew is family and friends that are very dedicated, knowledgeable, and ready to go at any time. Without a good strong crew, a pilot cannot fly and have a safe, fun, and successful flight. Thank you very much, "Crew"!!!

Christmas vacation 1977, my Uncle, Tom Stodolski, gave my brother Bob and I our first balloon flight. After 20 minutes, we landed to swap propane tanks and my brother for a friend. After another hour of flying which included sliding across a frozen lake, I began to feel ill. When we landed I immediately went to my Uncle's car and laid down in the back seat and was unable to help pack up. I find this story so interesting because I am the only family member to follow my Uncle's footsteps and become a hot air balloon pilot.

Other hobbies include old muscle cars, I still have my first car I bought in 1980 a 1970 Plymouth Duster 340, Curling yes the sport with the stones and sweeping, and riding motorcycles.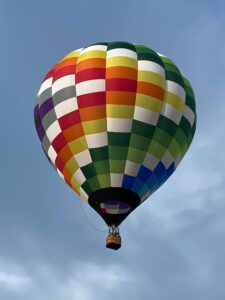 "Rise Above It"
Sponsored By:
Stephen J. Esser
Kutztown, Pennsylvania
Born in Berks County, Pennsylvania, Stephen Esser is a native "Pennsylvania Dutchman." As a child Steve was always fascinated by the small plane and glider traffic in and out of the Kutztown Airport a half mile from home. His desire to learn to fly was only fulfilled when a balloonist friend convinced him to go into partnership on a new balloon and take flight training. Steve completed his flight training and was issued his Hot Air Pilots certificate in May of 1989. One year later further training earned him the Commercial Pilots rating.
Steve and his wife Lois now operate "Bloomin' Balloon" in the Kutztown area. Their distinctive balloon, white with six tulips follows the traditional "Pennsylvania Dutch" quilt patterns. In addition to flying in their home neighborhood, they venture to various balloon festivals. They have attended festivals in three countries and eleven states. Their festival adventures have taken them to Canada and Mexico with Bloomin" Balloon. For over twenty years Steve and Lois had participated in the world largest balloon event in Albuquerque, New Mexico.
When not ballooning, Steve retired from the family's printing business, spends his time consulting with local not for profit organizations and helping Lois around their rural home.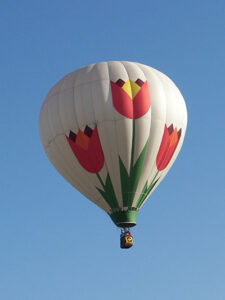 "Bloomin' Balloon"
Sponsored By:
Mary Beth & Dick Young
Parsippany, NJ and Lake George, NY
Both of us have been involved in Ballooning since 1977. We earned our Pilot Certificates in 1995 after our 3 children graduated from college.
2018 marks Mary Beth and Dick's 42nd year of being involved in Ballooning. 2018 also marks their 51st Wedding Anniversary! Ballooning continues to be a joyful, challenging, and Uplifting part of the lives that they share together and with family and friends!
Among Mary Beth and Dick's most memorable Flights are: Flights right over Lake George, NY, over the Navajo Nation's Monument Valley, Arizona, Mary Beth's international Flight across the St. Lawrence River (from rural Ontario to rural NY), and Dick's numerous Long Jump Flights in winter over the Northeast and New England at 14,000 feet.
Both Mary Beth and Dick are honored to be involved in Ballooning, a very close-knit part of the Aviation Community. They delight in striving to meet the ever-changing demands of Safely Flying Balloons.
Gene Burnstein
Brick, NJ
Started crewing in 1994 and became a pilot in 1998. Over the years I've enjoyed helping to bring ballooning closer to kids, including volunteering time and balloon at various BFA's junior balloonist camps as pilot / instructor, and then director. The balloon name came from my hobby – using paperclips to create artistic items (including a working miniature carousel on loan to the New England Carousel Museum). Each of crew member receives a single paperclip pendant in the shape of a balloon.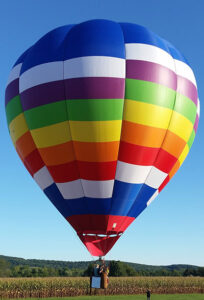 "ClipAway"
Sponsored By:
Joe Doerer
Whitehouse Station, NJ
Joe and his wife Janet took their first balloon ride in August of 1984 at a festival in Bloomsbury, NJ. Joe earned his commercial pilot license in 1989, allowing him to fly paying passengers and train future pilots. Joe has been an active member of the Great Eastern Balloon Association (www.gebaballoon.org) since the mid 1980's and is currently President of the association. Joe's brother Jim is a Balloon Federation of America Level Four Master Crew Chief. In 2016 he was chosen as the National Crew Person of the Year. The Dream Chaser crew has flown at the Albuquerque International Balloon Fiesta in 1991 and the Festival De Montgolfieres in Saint Jean Sur Richelieu, Quebec since 1993. Our goal in ballooning is to enjoy safe, fun flights while carrying on the tradition of friendship and freedom that have long been the symbols of ballooning.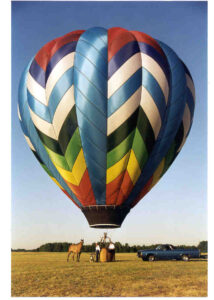 "Dream Chaser"
Sponsored By:
Tim Strand
Holland Township, NJ
Lovely wife Clare is balloon pilot for 30 years; I've flown in Hamilton, New Zealand balloon rally; Enjoy sharing experience of ballooning with first-timers; Looking forward to flying in Rotary Fall Festival once again!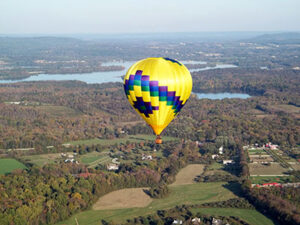 "Sunrise"
Sponsored By:
Rick Buckles
Williamson, New York
After taking a balloon flight in 1983 and crewing for several years, our first balloon, Typnady, arrived in 1987. Ballooning became a family activity with my wife, Nancy and our three sons Zane, Ian and Kyle all becoming crew chiefs. Fortunately family and many friends supported our love for ballooning which enabled us to fly throughout the states of New York and Pennsylvania and into Ontario Canada. Our balloon fleet grew over the years to include a one-man balloon built by Dave Steven, Bucklesup, and a 70,000 cubic Firefly, Rising Star. We have also added to the pilot list, our youngest son Kyle has his private certificate and is now working on his commercial rating.
Our family is excited to attend the Hughesville Balloon Festival and look forward to meeting residents and spectators.
When we are not flying we enjoy camping and walking in the woods.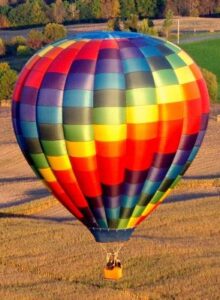 "Typnady"
Sponsored By:
Bob Dicks
Holland, Pennsylvania
I have been ballooning since 1982 Every flight is different and interesting.The name of the balloon I fly was named after My wife's maiden name fleck. Now we are on fleck 5 soon to be fleck 6.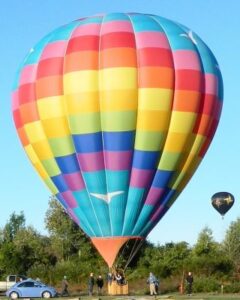 "Flecksfolly V"
Sponsored By:
Kelly Dubé
Bloomfield, NJ
Kelly Dubé, director of Balloon Talk, loves to share her love of ballooning. When she is not flying a balloon, she can be found actively presenting educational balloon programming in elementary, middle, and high schools.
She loves helping students enjoy the exploration and innovation of science and the creativity of design in problem solving.
Having home-schooled her own 5 children, she comes equipped to teach "out-of-the- box" and "up-in-a-balloon!" She loves to encourage children to escape the ordinary, to always take the scenic route, and to let their dreams take flight.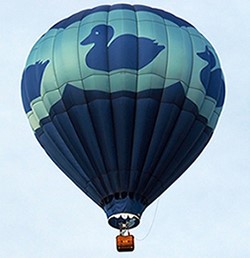 "Just Ducky"
Sponsored By:
Chris Sommers
Slatington, Pennsylvania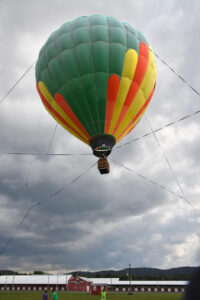 Sponsored By: